I am born…(ha ha, no this will not be David Copperfield-esque tome)
Who am I? That answer is always changing but a few things do seem to remain constant. I'm energized by art, I'm a fiercely loyal friend, and I love learning new things. Growing up in the Midwest, I always promised myself that after college I would venture away from home and see some of the country before finally settling into one spot. Since graduating college I have done just that living in Atlanta, Orlando, Danbury CT (just north of NYC), and finally Seattle, where I've been living for over 15 years.
So, what do I do? Well, that also changes from time to time. I love all aspects of marketing, but in recent years, I'd focused on event and trade show planning. I've worked both sides of the industry and most recently worked at Genie (makers of those blue scissor and boom lifts you see on construction sites).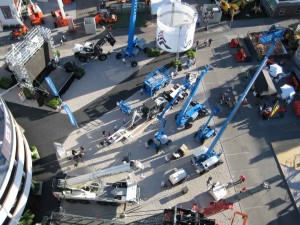 Working at Genie offered a once in a lifetime opportunity to plan and execute one of the largest shows Genie or its parent company (Terex) participate in, CONEXPO. I spent the majority of 10 months, including nearly 30 straight days in Las Vegas, working on this event. Our booth was 50,000 sq ft with 51 pieces of equipment from each of the 5 divisions of Terex. In addition to a lavish customer party where Lionel Ritchie performed, we also built a 3-story "green" structure in our booth and Mike Rowe of Dirty Jobs and Deadliest Catch worked alongside 600 Terex team members during the event. All in all, it was the opportunity of a lifetime, simultaneously exhilarating and exhausting. Something I'll never forget.
The story of me continues to wind down a road of life that God is leading me along. Unbeknownst to me, not long after CONEXPO one of the scariest times in my life would unfold. A mere 3 months after returning from one of the most amazing experiences of my life I would be unemployed. The unwitting participant of mass layoffs at Genie, which culled the marketing department from 28 down to 3, I would be thrust out in the world with thousands of other marketing professionals. It wasn't my first time, I'd been laid off once before, but it was the first time I ever struggled to get a job.
Over the next 14 months I drifted along in a sea of job postings and dead end interviews. I was offered a job at WaMu … the day before they declared bankruptcy and announced they were being bought by Chase. Needless to say, that job offer was rescinded. It was rough out there. Through it all, God was working … working on me and (though I had no idea at the time) working to get SAMBICA ready to receive me. In October 2009 I joined the team at SAMBICA, a small summer camp and retreat center in Bellevue. I'd never worked in ministry and the first few months saw it's share of ups and downs as I navigated the world of Christian non-profits.
Almost 6 years later, I'm still at SAMBICA and though I still struggle at times, I will say that my job is more rewarding than I could have ever possibly imagined. Gone are the days of working for "the man" (the shareholder). I do get to work for THE MAN, but the man Jesus Christ and it makes all the difference. When I have a hard schedule or a lot on my plate I can look and see that what I'm doing is for God and not so the company has a profitable year.
Being at SAMBICA also means I get to do some cool things like creating the design of our van wraps, designing a graphic wall full of children's happy faces, installing vinyl on many walls around camp, and many more "once in a lifetime" activities. In 2015 I celebrated a milestone at SAMBICA, 6 years of service and as a gift was sent off on a paid sabbatical for an entire month — an entire month to play! It was amazingly wonderful.
Once in a lifetime is a regular occurrence at SAMBICA. I've worked with a man in China who wanted to bring 14-16 teenagers to SAMBICA for summer camp. His email, full of code — you can't talk about Christianity in China because the government monitors all communication — was an interesting read. I've helped a Mom with a special needs child enjoy a week of camp … many fulfilling and amazing experiences.
On the personal creative front: I became a Prima Marketing brand ambassador in the fall of 2014 and I was invited to join a design team recently. It is my first and I'm finding that I enjoy working on a design team and hope to have the opportunity to join another one. I continue bringing a love of creativity to as many people as I can.