Hello my crafty peeps and welcome to another Innovation Station post, a monthly feature focusing innovative tips and tricks. Each month I share an innovation that I find myself going to again and again.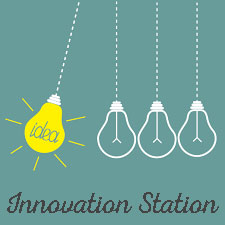 This month's innovation was going to focus on watercolor backgrounds, but instead I wanted to share about the new Blends alcohol markers. When the new Blends markers were announced a couple of weeks ago I was resolutely in the "I'm not going to invest in these" camp for the simple reason that I have hundreds of COPIC markers. I love my COPICS, they are by far my favorite for coloring medium and I thought, "I don't need more alcohol markers…". I stayed in the "no" camp until late Sunday two weeks ago when I decided I would order the set to do a comparison: COPICS vs Blends. I'm so glad I did. The left photo shows the first images I colored on Saturday and the right shows the images I did specifically for this post.
I wrote up my comparison on the demonstrator FB group this past weekend, but decided to dedicate this blog to the topic as well since I've played a bit more and as the discussion unfolded on FB, I refined my opinion. For those who want the bottom line right away, here are the pros (in green) and cons (in red):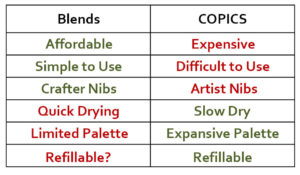 For those who like the details, please feel free to review the below for additional information:
The compound in the Blends drys faster than COPICS, which means you have to work in smaller increments, going back and forth between light and dark. The main time this is an issue is when working in very large areas (see the coffee cup).
The brush tip on the Blends isn't as flexible or resilient as the COPIC brush tip. As I was working on the coffee cup I noticed that when using the flick technique to blend the light and dark shades, the brush tended to fracture and get "bent out of shape", creating uneven strokes.
In some of the color groupings, specifically Bermuda Bay and Cherry Cobbler, there isn't really any difference between the light and dark shades meaning the light is very saturated and dark. This means achieving shadows and depth can be challenging, especially in small areas. That being said, both colors are lovely despite being too close in saturation level.
The BIGGEST benefit to the Blends, and it's an important one, is their

simplicity

. If you know anything about COPICS, you know there is a very complex letter and number system and you must understand this system to choose blending colors properly. You can't just blend any two greens together. It is probably the most daunting thing about COPICS (aside from the cost). Fortunately, SU has engineered the Blends in blending groups and with the exception of the two colors listed above, all the duos blend beautifully. No muss, no fuss, and zero confusion. For anyone new to alcohol markers this is HUGE!
COPICS were originally a fine artist tool. Crafters came along and began using them, but they can be expensive and are not really designed for crafters. Take the nibs, COPICS come with a brush and chisel nib. I NEVER use the chisel nib (does anyone). COPIC finally introduced a bullet nib, but you have to buy and replace the chisel nib and that is just more expense.

Blends have the best nibs for crafters, the brush and bullet, and that is another BIG selling point.

COPICS come in over 300 colors. While that is an amazing array of color, it is often daunting and also overkill for most crafters. The initial set of Blends creates a good palette and if (here's hoping) they add a few more colors the Blends will be a solid coloring set of markers, far fewer than the 350 or so in the COPIC family, which makes Blends more accessible than COPICS.
I did my initial testing on Neenah Solar White 80# card stock (the left photo above) because this is what I use for all my Copic work. I went back and did all the tests again using Whisper White and Thick Whisper White card stock (photos below and the right photo above). The clear winner: plain WHISPER WHITE. The colors tend to deepen, losing shadows and light, on thick whisper white — a lighter hand with the markers might help with this. Thick WW tended to have more issues with "bloom". Alcohol markers tend to seep into the paper slowly and that can cause bloom (where the color goes outside the lines of your stamped image). Bloom happens a lot when you are going over an area multiple times blending colors.
Some bloom can be corrected with the Color Lifter, but you have to be careful because the Color Lifter doesn't really erase ink, it actually pushes ink, which is why you can come back to a piece that you used the Color Lifter to correct bloom and have a "halo", a ghostly looking edge of color slightly beyond the area where you had bloom. Halo can happen on any type of paper (see the top orange pot for an example of halo).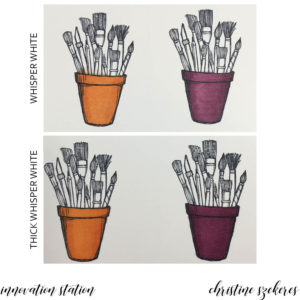 I did several tests trying to lighten the dark colors, especially Bermuda Bay, using the Color Lifter:
going over the image with the Color Lifter after the light and dark were laid down (see poppies in left photo above)
scribbling the light or dark marker on a craft sheet and picking it up using the Color Lifter (side-facing poppy on TWW below)
and laying down a layer of Color Lifter before putting either the light or the dark color down (the other 3 poppies in the image below)
Technique 1 did lighten the color, but in a very splotchy way, technique 2 ended up with bloom and halo, and technique 3 resulted in lighter color and smooth blending. The clear winner: technique 3.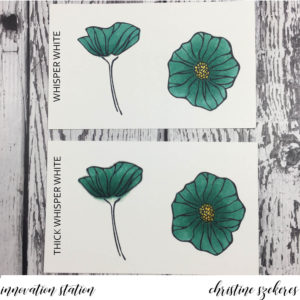 There are a lot of neat things you can do with the Color Lifter, but one of the simplest is using it to create patterns in your colored images. Here is a simple example of this. I will delve deeper into the Color Lifter in a future post.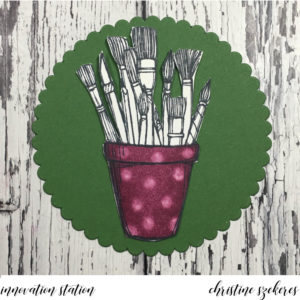 HINT: alcohol coloring tends to smooth out over time. You might be convinced that something is a disaster, but I encourage you to set it aside for a few hours. You will likely be surprised how good it looks when you pick it up again. I was really unhappy with this pink flower, but after an hour or so, the color had settled and I thought it looked much better!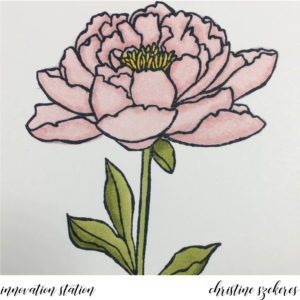 Overall, I am happy with the new Blends. I do have a few wishes: lighten the lights in Cherry Cobbler and Bermuda Bay, add a few more colors, make the nibs replaceable, increase the quality of the brush nib, and the marker refillable. I have a secret hope that the refill (if available) will not be a bottle of liquid but a new internal cartridge. If you've ever refilled a COPIC and had ink go everywhere but inside the marker, then you know why I think this is the way to go.
A word about paper and ink. I've tried Whisper White with my COPICS and never really cared for the results. I think this may have something to do with how long COPICS stay wet. I've had issues with warping, pilling, and bloom when I'm really working on blending several layers. I have not had these same issues when using the Blends on Whisper White, I actually prefer it over Neenah Solar White. I have two inks I use for all of my COPIC work: Memento Tuxedo Black and Simon Says Stamp Intense Black Premium Dye ink. Both produce crisp results with no danger of bleeding once you begin applying color. For all of the examples here I used Memento Tuxedo Black ink since that is what is available from SU.
Thanks for hanging out with me, and learning (or relearning) a fun innovation! Join me next month for another of my go to innovations, shaker cards. Until next time, remember, creativity and imperfection live together in all we do. "Grace is the face love wears when it meets imperfection."
~xoxo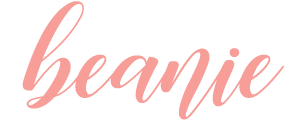 Supplies Used:
Stampin' Blends Alcohol Markers
Ink: Memento Tuxedo Black
Card Stock: Whisper White & Thick Whisper White
Stamps: You've Got This, Coffee Cafe, Crafting Forever, & Oh So Eclectic