Hello my crafty peeps! I'm happy to be here again this month as part of the Fun & Crafty blog hop. This month's theme is Christmas in July! I know, I know, it's still summer, but for better or worse stamp companies release their holiday products in August and September.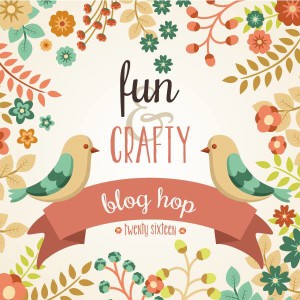 On the positive side, you can get the jump on your holiday cards and handmade gifts! Beginning in August Stampin' Up! is offering everyone a chance to pre-order one of the new suites, Carols of Christmas, in August before the holiday catalog goes live on September 1st.
I really like the stamps and dies in this product suite. The dies are innovative and the bold sentiments are the perfect focal images for all of your holiday creations. I think my favorite element is the card builder border, followed closely by the night sky die. Both are perfect for all sorts of cards, not just holiday and I think that is why I like them so much! In my sample I created a background using a paper piecing technique called herringbone. This can be done with washi tape and also, as shown here, with patterned paper like the Be Merry DSP. It's a great way to use your DSP and show off all the wonderful and coordinating patterns.
This technique may look complicated, but it is actually very simple. There's no "right" or "wrong" way to apply the paper that creates the pattern. You begin with a base layer (a piece of card stock that you adhere the strips to) and the strips of DSP. For this sample my whisper white base is 5″ x 3.75″ and I used .5″ strips. Normally, I cut two, 6″ x 2″ pieces of each pattern (this yields four, 6″ x .5″ strips) and I apply edge-to-edge adhesive (Using Stick It! or my Xyron). Once I have the adhesive on, I cut down the piece into four .5″ strips from each pattern in the pack. I leave the backing on one side of the strips so I can mock up the placement before I expose the adhesive and stick each strip down permanently.
Once I'm ready to begin, I place three strips running diagonally across the middle of the base (left photo above), alternating the patterns and trimming off the excess on each side. HINT: I like leaving a little white space between the strips, but you could also place them side by side. These strips serve as an "anchor" making it easy to place the remaining strips. After the three center strips are down, I add the next three above them (right photo above), oriented vertically (the opposite of the first three strips). Next, I add three more next to those vertical strips, this time oriented horizontally (left photo below). I keep working in this manner until the entire base is covered (right photo below). You may need to add a few small "triangles" here and there to fill in some edges, but otherwise you are done. I will repeat patterns a couple of different times, if needed, but place them in different parts of the base.
One of the things I love about Stampin' Up! products is the color combinations. Each pack of DSP lists the coordinating colors on the back. This is super helpful when choosing card stock and other embellishments. The coordinating colors for the Be Merry DSP are Cherry Cobbler and Garden Green so my inks, card bases, mattes, and accents were those colors. I began with a side-folding A2 card and cut a 5.25″ x 4″ matte (if the card is Cherry Cobbler then the matte will be Garden Green, and vice versa). The herringbone background is adhered to the matte and then the matte to the card base.
The large sentiments in this set are the perfect focal point for your card. I cut 3.5″ x 3.5″ squares in Whisper White for the "Peace on Earth" sentiment and stamped it using either Cherry Cobbler or Garden Green ink. I also cut a 3.5″ x 3.5″ matte out of Cherry Cobbler and Garden Green card stock. Using the Layering Circles, I die cut the sentiment using the largest circle and then using the largest scallop, cut the mattes. I adhered the sentiment to the opposite color scalloped circle (Cherry Cobbler sentiment on a Garden Green scalloped circle and vice versa) and I adhered it to the herringbone background using pop dots.
Both Cherry Cobbler and Garden Green are darker colors, so I decided to finish my card with a Whisper White panel inside and I used the card builder border die to add a little extra touch to this panel (see above right). These stamps and dies are wonderful and I hope my card inspires you to purchase this bundle for yourself!
There is a ton of inspiration throughout this hop. Since you started here, I encourage you to grab a cup of coffee and visit the other talented team members listed below to leave them some blog love! Next up is the talented Kathy. Until next time, remember, creativity and imperfection live together in all we do. "Grace is the face love wears when it meets imperfection."
~xoxo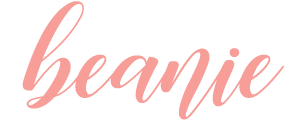 Supplies Used:
Stamps & Dies: Carols of Christmas Bundle (146036) & Layering Circles (141705)
Card Stock: Whisper White (100730), Cherry Cobbler (119685), & Garden Green (102584)
Ink: Cherry Cobbler (126966) & Garden Green (126973)
Be Merry DSP (144111)