Hello my crafty peeps! I'm happy to be here again this month as part of the Fun & Crafty blog hop. This month's theme is Mother's Day. A day to honor that woman who taught you right from wrong, wiped every tear, and kissed every boo-boo! She stands firm and steady as a rock for her kids as they venture farther and farther from home, always knowing they have a safe place to return. Mom's are golden.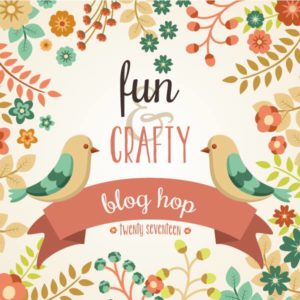 My Mom is gone, having passed almost 7 years ago. So is my Gran, who is really the woman I think of as my Mom since she raised me. I have so many wonderful memories of times with my Gran that though she isn't here with me, I feel her presence and remember the lessons and life truths she taught me. She was feisty, loyal, fierce when crossed, generous, and independent. She instilled in me a drive to be self-sufficient, to obtain all the education I could, and to never give up on my dreams. I miss her but honor her each day. Owing to the fact that both of my "Mom's" are gone, I never really invested in any "Happy Mother's Day" stamps so when this month's theme was announced I was at a loss as to what to do … enter the new Eastern Palace suite from Stampin' Up! I am always looking for alternate uses for the stamp sentiments I have and was pleased to find that the sentiments in this set are versatile, but more on that in a minute.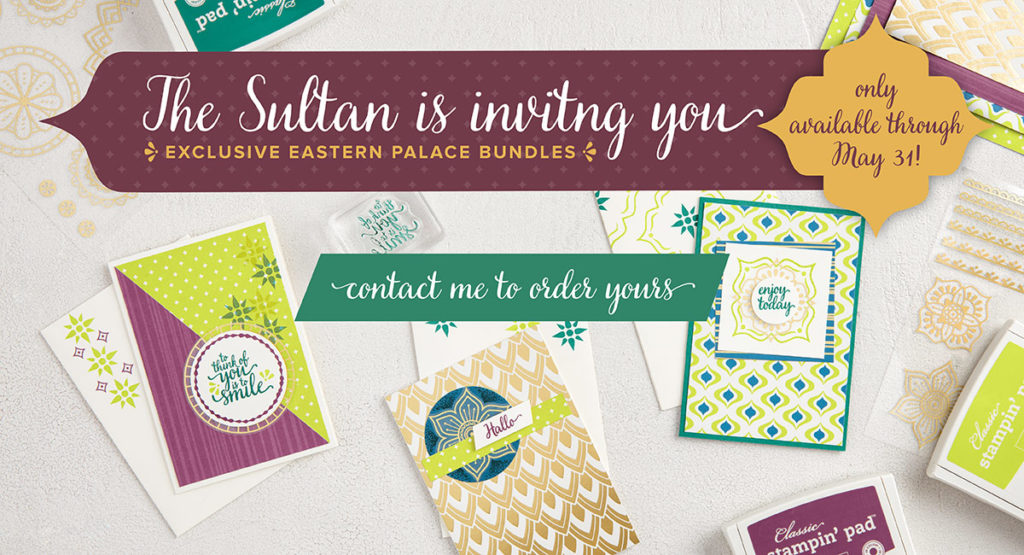 When I first saw the suite I didn't immediately fall in love. Actually, it was quite the opposite, I really didn't like it very much but I challenged myself to order one of the bundles and work with it during the month of April. Little did I know when I set this challenge it would turn out to help me create this month's Mother's Day card and help me fall a little in love with the Eastern Palace suite. The suite features three new In Colors, Tranquil Tide, Fresh Fig, and my favorite, Lemon Lime Twist. It features mandala imagery, some interesting dies, and wonderful embellishments. The DSP showcases geometric shapes and adds in Dapper Denim to the other colors. It's opulent and rich. In May, everyone will have a chance to purchase one of two bundles (premier or starter) before the new catalog goes live.
For my card I used a piece of Tranquil Tide card stock cut to A2 size (4.25″ x 5.5″). The DSP was cut to 4″ x 5.25″, and I also used a 3″ piece of the Fresh Fig card stock behind the DSP. First, I cut out the flower mandala shape using the matching thinlit die. This die is unique in that it doesn't cut out the outer shape, but instead cuts out the "petals", which you can lift up, adding dimension to your card. I decided I also wanted to split the DSP so that I could insert a piece of Fresh Fig card stock behind and create some interest in my card. I used one of the layering circle dies to cut out a badge for the center of the mandala die cut and used one of the circle stamps and a sentiment (to think of you is to smile) from the Eastern Palace stamp set. I stamped the circle in Fresh Fig and the sentiment in Tranquil Tide on Whisper White card stock. While not overtly "Mother's day" this sentiment reminded me that whenever I remember my Gran I always smile, which seemed perfect. Because the card base is so dark I also inserted a 4″ x 5.25″ Whisper White panel inside and stamped one of the smaller images from the Eastern Palace suite to tie in the Lemon Lime Twist ink. The finishing touch, a rhinestone on the circle for that little pop of bling!
There is a ton of inspiration throughout this hop. Since you started here, I encourage you to grab a cup of coffee and visit the other talented team members listed below to leave them some blog love! Next up is the talented Pamela over at Stinky Tofu. Until next time, remember, creativity and imperfection live together in all we do. "Grace is the face love wears when it meets imperfection."
~xoxo
Beanie
Supplies Used:
Eastern Palace Premier Bundle
Inks: Lemon Lime Twist, Fresh Fig, & Tranquil Tide
Paper: Eastern Palace DSP
Card Stock: Tranquil Tide, Fresh Fig, & Whisper White
Rhinestones