Hello my crafty peeps! I'm happy to be here again this month as part of the Fun & Crafty blog hop. This month's theme: "Oooh, Something Shiny!" is one we can all relate to, particularly at this time of year. I'm sure you are NOT like me … I'm sure your Christmas and New Year's cards are already done … however, should you find yourself in a last-minute rut, I hope you take some inspiration from the below as well as all the other inspiring projects in this month's hop.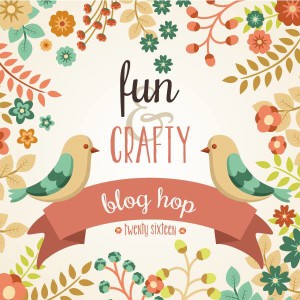 If you are anything like me you look for stamps and dies that are versatile. When I saw the "Greetings from Santa" stamps and "Detailed Santa" dies, I knew it would be simple to create a number of cards that were different. Far from requiring a lot of thought, these dies and stamps are pretty straightforward in their versatility making them some of my favorite 'go to' sets for holiday cards.
For this month's hop I decided to showcase the simple versatility of these stamps and dies using three different card stocks and three different glitter papers. Each card contains the same elements, but each looks vastly different due to the color combinations. The first combo, 'Straight Up Christmas', combines red and white. It is simultaneously colorful and whimsical. The second combo, 'Frosty Friends', combines red and dazzling diamond. This is the bling-y version of the card. The third and final combo, 'Winter's Magic', combines silver and blue into an elegant version that evokes a cool winter's day.
What I especially love about these two products are all the extra images and dies that can be used to add little touches to your envelopes. Here are a couple of examples of what I mean.
Oooh, something shiny wouldn't be complete without a wee bit of Chibitronics fun. Below is the fun trade I created for a demonstrator event back in September. I used the Cookie Cutter punch and stamp set to create this light up reindeer to guide Santa's sleigh.
There is a ton of inspiration throughout this hop. If you started here, please visit the other talented team members listed below and leave them some blog love! Until next time, remember, creativity and imperfection live together in all we do. "Grace is the face love wears when it meets imperfection."
~xoxo
Beanie
Christine Szekeres – Artful Musings (you are here)
Danielle Elvin – Going to Collage
Supplies Used:
Stamps: Greetings from Santa
Dies: Detailed Santa Thinlets
Cardstock: Night of Navy, Cherry Cobbler, & Whisper White
Glitter Paper: Dazzling Diamond, Silver & Red
Ink: Versa Mark
Embossing Powder: White & Red
Other: Fine-Tip Glue & Embossing Buddy