Hello and welcome to the first ever Nani ke Ola blog hop! Today each blogger is focusing on the new 7 Dots Studio collections, Cotton Candy and Writer's Block. I love 7 Dots Studio and was so excited for the new collections, particularly Cotton Candy. You should have arrived from Heather Thompson's blog and started at the Nani ke Ola blog. There is a giveaway so make sure to visit each blog and leave some love for a chance to win a sweet prize!
I've been a member of the NKO Design Team for a little over a year, and in that time, I've had a chance to spread my wings, get messy, and be inspired by some of the most wonderful artists around. I know you will agree that these are some talented ladies, when you see all the creativity of this blog hop.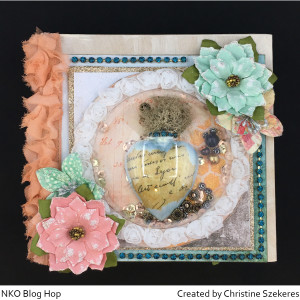 As I said, I was over the moon when I saw the Cotton Candy collection. It is dreamy and whimsical and includes teal and salmon a favorite color combination of mine. It's like it was tailor made for me. I knew I wanted to combine the lush papers, stickers, chipboard, and other elements with products from Prima Marketing's Memory Hardware collection. There are wonderful mixed media elements in this collection and you can really create something beautiful combining the lush papers and elements from 7DS with the great products from Prima. If you like the Memory Hardware line, I encourage you to let Jennifer know. She stocks some Prima products and is always listening to what her customers are excited about. I used the square album, flowers, rhinestone chain, resin heart, sequins, lace trim, and domes in this project.
I began by "dry" painting the album using some Vintage White Folk Art paint. The advantage of dry painting is that it dries quickly since you are using so little paint. It also creates a "shabby chic" / distressed base for the album. HINT: You only need to paint the edges since paper will be covering most of each page. I also began sketching out what papers would go on each page. I do this by cutting up the 12×12 papers into 6″ squares and also cutting smaller pieces (4×6, 3×6, and 2.5×4). Next, using Walnut Stain Distress ink and a round blending tool I inked the edges of all the papers. I cannot stress enough how elegant this simple step is. Visually, it adds so much dimension to the papers and ties each page together. Once the pages are cut and inked, I begin laying them out, moving things around and finally "locking" in the design of each page and 2-page spread.
Next, it's time to begin gluing things down. I like to use a really strong tape runner (like 3L Scrapbook Adhesives My Stik permanent adhesive) or Scor-Tape. For this album I created photo pages, waterfall pages, and pocket pages. After the pages were done, I began thinking about embellishments for each page. For the chipboard I used some clear and copper embossing powders. To get embossing powder to stick to the chipboard, simply use VersaMark or another ink (like Delicata Black Shimmer ink), apply the powder and heat set. The 7DS collection kit comes with two sticker sheets, words and icons, one cardstock elements sheet, and one die cut tags sheet. The waterfall pages consist of 5, 4×6 panels. To create the glue tab, score each panel at a quarter inch and crease using a bone folder. Apply tape runner to the "tab" and beginning at the top, adhere each panel, placing the next panel tab right next to the one above. For the pockets, apply adhesive to the bottom, left, and right sides, leaving the top open to create the pocket.
Once the inside of the book was complete, I began working on the cover. Using a new Memory Hardware acrylic dome, a resin heart, some moss, a few rhinestones, some sequins, and rosette trim I built the focal piece of the album. Anything heavy was glued down using hot glue to make sure it would remain in place once the dome was sealed. HINT: If you paint anything that is going inside the dome make sure to let it dry completely and also rub your anti-static powder tool over any painted surfaces. Also, seal the dome to the backing paper using clear or matte Glossy Accents in a very thin layer. Using too much medium will make it seep into the dome and your floating bits will get stuck to the medium that seeped inside.
Up next, Kathleen Bement White. Make sure to visit and comment on all the blogs for a chance to win the giveaway!
I had so much fun creating this album. I hope it inspires you in your creative pursuits. If you started here, please visit the other talented team members listed below and leave them some blog love! Until next time, remember, creativity and imperfection live together in all we do. "Grace is the face love wears when it meets imperfection."
~xoxo
Beanie
———– THE GIVEAWAYS ———–
| | To qualify for the giveaway, make sure to follow and comment on each of the blogs. You have until 12/01/2016 to comment. The winner will be announced on the Nani ke Ola blog on Monday, 12/05/16! Good luck everyone! |
| --- | --- |
| | For an additional giveaway, make sure to follow us (@nanik3ola, @beanie_me, @heifer21, and @lccrafts85) on Instagram and comment on the prize photo. You have until 12/01/16 to follow and comment. The winner will be announced on the @nanik3ola Instagram on 12/05/16! You can search Instagram using #NaniKeOlaBlogHop and when you receive your 7 Dots Studio goodies make sure to post pictures of your creations using this hashtag to join in the fun! |
| --- | --- |

Supplies Used
Cotton Candy Collection Kit
Cotton Candy Chipboard
Cotton Candy Hex Stencil
Prima Marketing Memory Hardware Line