Good morning friends! I hope you are well and enjoying the steady march toward spring and summer. I cannot believe that March is over (after today) the time is flying by so quickly. Today I want to share my newest creative undertaking: Bible journaling.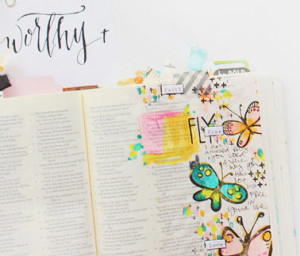 Maybe you already know about this new creative medium, but I thought I would share what I've learned in case the idea of drawing in your Bible was a foreign concept. Like most kids raised in the Bible belt I was taught that the Bible was sacred, precious, and most importantly not to be altered. As I've grown in my faith my understanding about what the Bible is and isn't has changed. One thing that I no longer believe is that the Bible should remain unaltered, hence my interest in Bible jorunaling. I am always looking for ways to make my faith more personal and Bible journaling allows me to take my interactions with the Word to a whole new place. A good place where I am able to celebrate the joy of the Word visually.
I was able to snag a newly released journaling Bible by Tyndale (NLT). Not only does it have 2″ wide margins on each page for my journaling and artistic musings, it contains artwork just waiting to be colored. Filled with beautiful imagery and graphics, this Bible is a wonderful way to dive into Bible journaling.
The neat thing is crafty companies are jumping on board, creating journaling Bibles and other tools to help us achieve a new understanding and relationship with the Word. Here are a few of the companies selling journaling Bibles and other supplies:
DaySpring: Illustrated Faith by Shanna Noel
Lifeway: Journaling Bibles
Scrapbook.com (selling Illustrated Faith products)
There are also a lot of classes forming. I will be writing a post over the weekend after I attend the "Created" workshop with Cori Spieker and Shanna Noel down in Federal Way. I can't wait to dive into Bible journaling fully. I am excited to see where the Word takes me and my mixed media tools.
Until next time, remember creativity and imperfection live together in all we do. "Grace is the face love wears when it meets imperfection."
~xoxo
Beanie