Hello, friends! I'm on the blog today with my third and final entry for the Pretty Pink Posh Valentine Challenge. Learn more about this challenge by clicking the image below.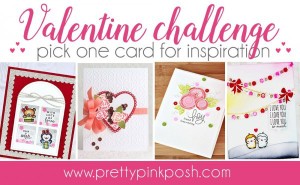 As I said in my first post, I have been in love with PPP for a while now. Her sequin mixes are beautiful and unique. I love using them in all sorts of projects from shaker cards to plush creations. My favorites are the exclusive sets: Ocean Spray, Peacock Feathers, Strawberry Burst, Sunshine Glow, and the new mini confetti hearts and stars. I also love her new stamps! My favorite is the exclusive set created for Simon Says Stamp's "Stamptember" event last fall. This amazing set is still available. Typically, these exclusive sets sell out right away (as this one did), but it was so popular SSS restocked it so it is still available.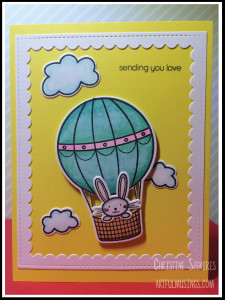 For my final entry into the challenge I decided to create a card using this wonderful stamp set. Again, I take my inspiration from Liz who used the winter version of the "half animals" in a PPP stamp set. As an extra little something I also created a plush heart gift using one of the new Memory Box plush dies, Pocket Heart and filled the pocket with some stick figure pals.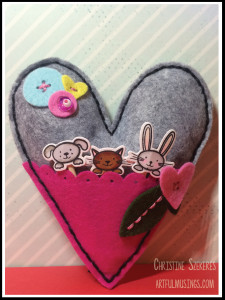 I fell in love with the new line of plush dies from Memory Box last fall. There are several dies covering Christmas (stockings, snowmen, and mittens), Valentine's (hearts), and Easter (bunnies, birds, and eggs). I die cut up a bunch and watch tv while I sew them together — it's a fun and relaxing way to spend a few hours.
The base is a "sunshine" A2 card. I stamped the hot air balloon, bunny (2), puppy, and of course, the kitty on Copic blending paper using Memento Tuxedo Black ink (see this post for a note about Copic blending paper). I also stamped the big and small clouds from the Pixie Dust set by Avery Elle. I die cut all the pieces and began coloring them with my Copic markers. Balloon: RV10, E08, E35, BG34, BG13, BG10, & BG000. Clouds: BG000 & B000. Bunny: RV10, T2, & T0. Kitty: RV10, E08, E11, & E35. Puppy: W5 & W0. I also used the Copic colorless blending pen.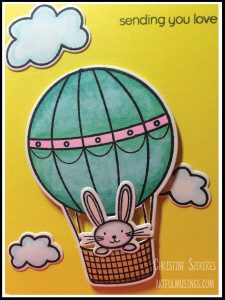 Once everything was dry I die cut the large Scallop Frame (a PPP exclusive) out of white cardstock and glued it to the sunshine card. I began laying out and gluing down the clouds and balloon. Finally, I added the bunny and stamped the "sending you love" sentiment using Memento ink.
For the plush heart I die cut two of the large heart out of grey wool felt, the pocket out of hot pink felt, the bits and pieces out of various colors of felt. Using embroidery floss I sewed the bits and pieces (along with a few PPP sequins) on and then began sewing the pocket and two large hearts together, stopping short of completing it so I could add some polyfil and then stitch it closed. Using a bamboo skewer I attached the puppy, bunny, and kitty using thin washi tape and inserted them into the pocket.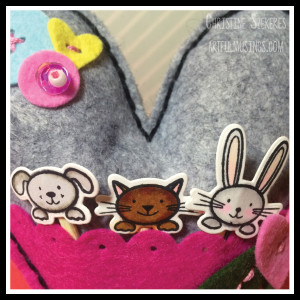 I had so much fun creating for this Valentine's Challenge. I have loved looking at everyone's entries and I know Pauline will have a difficult time choosing a winner — all the entries are amazing. Until next time, remember, creativity and imperfection live together in all we do. "Grace is the face love wears when it meets imperfection."
~xoxo
Beanie