Hello, friends! I'm excited to be back today sharing my miniature mixed media piece called, "Frozen". Have you ever heard the tale of "Frozen Charlotte"? Frozen Charlotte's are miniature porcelain or bisque dolls. The ones I've found have come from Germany and were dug up from the ruins of pre-world war factories. Owing to this digging up, it's rare to find a Frozen Charlotte intact. Most are hauntingly tragic with a missing arm, leg, or foot. The dolls were made in the latter part of the 19th and early 20th centuries and are widely collected today by doll enthusiasts and mixed media artists.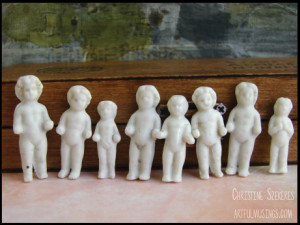 Here is the story of poor frozen Charlotte…
"One piercingly cold, winters night, Charlotte's beau, Charles, picks Charlotte up in his sleigh to attend a ball at the village inn, 15 miles away. Looking lovely, young Charlotte, dressed in her finery, vainly wanted to be seen and admired along the way, and so did not heed her mother's good advice and cover herself with a blanket, refusing even to wear her wrap. By the time she and Charles arrived at the inn, Charlotte was a frozen corpse! Charlie, devastated by the loss of his love, soon died of a broken heart and they forever slumber together, in one tomb."
Sad, no? It's unclear if the legend of Charlotte is based on actual fact or if it's urban legend, but one this is certain. With their cheery faces, and broken bodies, Frozen Charlotte's are a wonderful addition to any mixed media piece.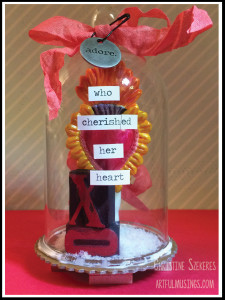 I was inspired to create this piece when I received the Prima Marketing Relics & Artifacts: Flaming Hearts II in an order from Nani Ke Ola. I've long been wanting to try out these relics and I thoroughly enjoyed working on colorizing the flaming heart at the center of this piece. I often enjoy working with the Melissa Francis domes. They are sometimes hard to find, so I ususally stock up. She does have a website where she sells them.
First I mixed up some gesso and LSG Red Hot Poker Orange magical and painted the chipboard base. I also drilled a small hole in the base and painted the bamboo skewer, setting both aside to dry.
Next, I chose some Copic markers (YR23, YR07, YR04, YR16, R37, R43, R46, & V15) and began coloring the flaming heart. I buy my Copics locally (at Impress, Urban Scrapbooker, or Ben Franklin) when I can. Several online retailers also sell them (Simon Says Stamp, Ellen Hutson, and Scrapbook.com). When I was satisfied with the colors and shadows I set this aside to dry. Next, I chose two small letterpress letters "X" and "O" and painted them with Distress paint in Candied Apple and put them aside to dry. At this point I came back to my relic and added some clear Wink of Stella to give it an iridescent glow. I glued the relic to the bamboo skewer and set that aside to dry.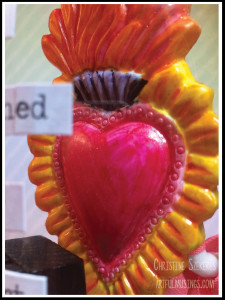 Next, I created feet for the piece using scrabble tiles. Using Aleen's fast grab tacky glue I adhered the feet to the bottom of the chipboard base. While I was waiting for things to set up, I took some Color Bloom Sprays in Cotton Candy, Peony, Carmine Red, and Frost and colored two pieces of seam binding. I crinkled the wet binding and began drying it with my heat gun. TIP: I love the fact that you can refill (with regular water) the Color Bloom sprays 2 times before discarding it. They are so packed with pigments.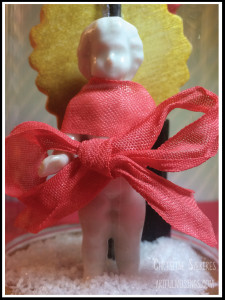 I added the phrase, "who cherished her heart" using ChitChat stickers to the front of the dome and I distressed the X & O using my favorite sanding block. Now that everything was dry, I was able to begin assembly. First, I placed the relic and then added in the Frozen Charlotte, which I draped in one of the lengths of died ribbon, and finally the X & O. The last thing I did before sealing the dome to the base was to add a bit of Flower Soft (Snow).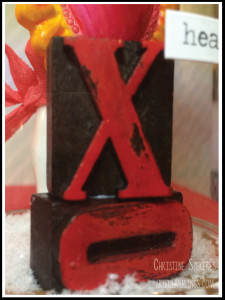 Lastly, I tied the 2nd piece of dyed ribbon to the top of the dome and added a word charm (adore) to it. I've made many of these little dome pieces and I really enjoy creating in miniature.
Thank you for sharing some of your time with me today. I hope this piece has inspired you to get into your creative groove! Until next time, remember, creativity and imperfection live together in all we do. "Grace is the face love wears when it meets imperfection."
~xoxo
Beanie
Supplies Used
Prima Marketing Relics & Artifacts: Flaming Hearts II
Prima Marketing Color Bloom Sprays: Cotton Candy, Carmine, Peony & Frost
Tim Holtz Word Charms
Tim Holtz Sanding Block
Tim Holtz  Letterpress Letters
Wink of Stella Clear
ChitChat Stickers
Bamboo Kabob Skewer & Flower Soft (Snow)
Distress Paint in Candied Apple
Copic Markers & Vintage Frozen Charlotte
Snug Hug Seam Binding Winter White