A few years ago I got really into glass block art. I made several and ultimately gave them away to friends. I realized that I didn't have one of my own. I decided to fix that so "Merry & Bright" was born.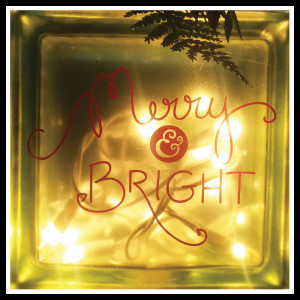 Using supplies from my local craft supply (Ben Franklin in Redmond, WA) I was able to put together a wonderful Christmas display. Ben Franklin doesn't have online ordering so I've looked around for all the items and the links are below. I love the Krylon stained glass paint (both translucent and sea glass which is semi-translucent). You should be able to get these locally at Home Depot, Lowes, Michaels, Hobby Lobby, and Joann.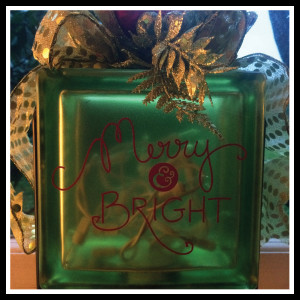 It's pretty simple really. First, spray paint the block and set aside. You might want more than one coat, depending on coverage and look you are trying to achieve. Once dry apply your vinyl image, following the directions on the package. Those with Cricut machines (or any die cutting system) can make their own vinyl decals so I've linked to both pre-cut as well as supplies to make your own. If you are cutting your own, I cannot stress enough the importance of transfer tape. Trust me, it will make your life so much easier. I prefer the Cricut brand vinyl, but any adhesive backed vinyl will work.
Vinyl is pretty easy to apply, especially to glass. TIP: When you are removing the top mask, (that transfer tape I mentioned earlier) pull slowly at a sharp 45 degree angle.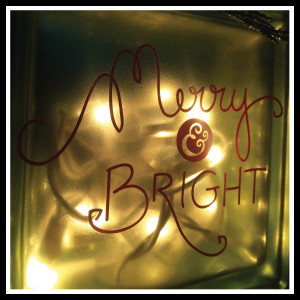 Once done, you can carefully insert your string of twinkle lights into the block. I just pushed them around until I liked the way they looked. The final step, for me often the most difficult, is the topper. Choosing flowers, ribbon, and ornaments to rest on the top of your block. I used wire-edged ribbon because the bow and tails hold their shapes (and go back into shape after storage) and give the block that finished look. A few green glitter sprigs of foliage and some small red Christmas ornaments complete the look. I wound the ribbon around, tied the bow and then attached the foliage and ornaments using their ends and a bit of thin wire.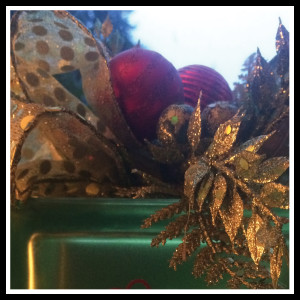 Insert the block into the metal stand, choose a window, plug in the twinkle lights and sit back to enjoy your festive display. Wishing you and yours Happy Holidays!
Until next time, remember, creativity and imperfection live together in all we do. "Grace is the face love wears when it meets imperfection."
~xoxo
Beanie
Supplies Used
Krylon Stained Glass Spray Paint
Krafty Blok Glass Block & Stand
Vinyl Sentiment or Image
Vinyl Supplies
Cricut Transfer Tape (this is a must)
Darice White Twinkle Lights
Wire Edge Ribbon
Small Ornamants