It is embarrassing that I attended this event nearly 1 year ago and never got around to finishing up sharing about my experiences. It is truly an EPIC FAIL on my part and in no way should reflect on the quality of the event or the fun I had. Truly, it was wonderful.
Part of the reason I never ended up publishing the 2nd half is because some of the projects were never completed. If I were to register one complaint (and I did share this on my survey) it would be that some of the projects were very ambitious for the class time allotted.
It's challenging … designing an event that appeals to a variety of styles and experience levels. I know Denny and the team at Prima did the very best they could to appeal to all of us.
Part of the problem lies with me as well. I'm not really someone who goes home and finishes that which is unfinished. No matter how good directions are, it's not my brainchild and without the instructor sometimes it's just not the same.
Of the 6 classes, I completed half. At the time I was bummed, but in retrospect I think it's not too shabby, but not what I'd hoped for when I arrived and stepped into my first class.
Let's recap the six classes visually (Frank Garcia, Alberto Juarez, Anna Dąbrowska, Jamie Dougherty, Julie Nutting, and Trina McClune):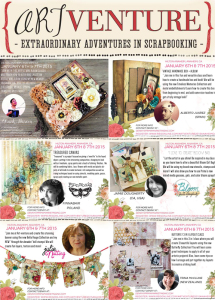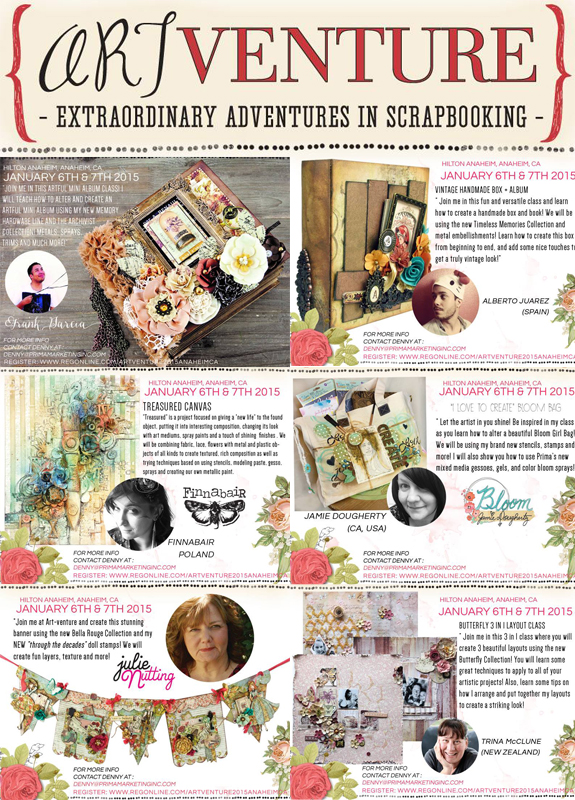 Frank Garcia's, "Le Collectionnuer" mini album. Class was a very fast-paced, sprint-like experience:
Anna Dąbrowska's "Treasured Canvas" was fast-paced, but more organic "do what you feel vibe":
I think I had the most fun in Jamie Dougherty's "I Love to Create" canvas bag, which shouldn't surprise me since it was my final one. Jamie is a great teacher – very low-key – just what I needed after two intense and wonderful days. I liked making the bag so much that I've actually made 4 others for friends in 2015.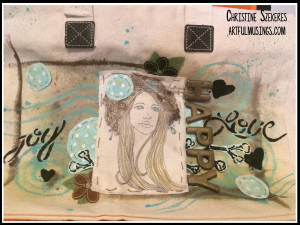 So what happened in the other three classes? It came down to several things, really.
Not being a scrapbooker, I decided to concentrate on techniques in Trina McClune's class (she showed us some amazing things) so I never intended to "complete" the 12×12 layouts in her class, but I have sure used several of her techniques since ArtVenture. I walked away with a little technique book that I refer to often. I really consider this one finished as well.
I came close to finishing Alberto Juarez's "Vintage Handmade Box" in class so I'm going to try and finish it before December 31st.
The final class, Julie Nutting's "Bella Rouge Banner", was the least like my style and is largely why I didn't finish it. I did practice paper doll construction, fussy cutting and layering different papers on the dolls and their outfits so I guess you could say I got what I wanted out of it.
The event was well-run and the venue worked well. In a surprising twist I won one of the grand prizes, a piece created and signed by Anna Dąbrowska (aka Finnabair). That was pretty neat.
Prima was very generous, in addition to a giant tote full of Prima goodies each class came with nearly everything needed for the projects (plus loads of extras). Many of the items weren't even available to the general public since they didn't debut until CHA which started 2 days after ArtVenture.
All in all it was a wonderful experience. One I hope to enjoy again sometime. I opted not to go this year due to things going on at work, but I hope I'll be able to go in 2017. I wholeheartedly recommend it to anyone looking for a creative retreat. Learn more or register here.