Today I am bringing you a mixed media piece using Graphic 45s 3-panel shadow box and Blue Fern Studios Vintage Christmas papers. I am so happy to have the opportunity to share my love of Christmas through my project, which is based on a Graphic 45 3-panel wall hanging.
Last week I absently quipped to one of my fellow design team members that "sometimes my creativity needed the pressure of waiting until close to the deadline" to function properly. The person I was talking with is so on the ball with her submissions and me, well I'm not.
I've known what I was creating for about two weeks, but as I began working on it I felt compelled to stop and step away several times. The building of pressure (always inching closer to the publication deadline) helped me hone the design. Each time I came back after an absence (no matter how short) I found that I took things off, rearranged things, and added new goodies. It's been a truly cathartic.
But enough about my process … onto the Christmas fun! My favorite Christmas cartoon is the classic Rudolph the Red Nosed Reindeer mostly due to the wonderful songs included. The songs Silver & Gold, Fame & Fortune, We're a Couple of Misfits, There's Always Tomorrow, and of course, my favorite A Holly Jolly Christmas are what have given the cartoon it's charm and staying power. I named my piece Holly Jolly Christmas in homage to this classic from my childhood.
I've had this Graphic 45 3-panel shadow box for about 4 months. Originally I bought it with the thought of doing something with it for Halloween, but when I joined the NKO design team and learned we were having a Christmas kickoff I decided to save it. I was able to get my hands on some of the brand new Blue Fern Studio Vintage Christmas papers, which formed the basis for this project. These papers are amazing, with rich colors, beautiful imagery, and an opulent thickness not found in other papers. Simply put, the line is perfection.
I started by choosing 3 papers and cutting the background squares. The frame has two pieces of plexi glass that are held in place by swivel clasps. I also used the Greeting Cards paper for the elements added to the back over the background squares. When everything was glued and dry it was sandwiched between the plexi glass and secured to the frame using the swivel hooks. I added metal corners & a paperclip to the front along with the "Merry Christmas" banner (also from the Greeting Cards sheet). Using red and white baker's twine I tied the silver bells together and then threaded them through the clip holding the banner. I mounted the banner to the wood using foam squares.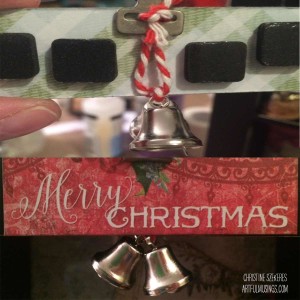 Next, I inked the edges of all the papers using Hickory Smoke Distress and Powder Puff Chalk Biscotti inks. Once the panels were in place I began laying out each vignette. For the top vignette I fussy cut the little girl off the Noel sheet and glued her in place. I also inked up the 25 chipboard with Fresh Ink's Red Currant and added sticky embossing powder so I could finish it with some Distress rock candy glitter. I popped it up off the background using black foam dots. TIP: I prefer black foam tape and dots because they are easy to hide and are not as stark as the white. I added an ecru burlap flower to the corner and some vintage metal trim to the bottom of the panel. For the focal piece, I filled a glass bottle (similar to these) with German glass glitter in green, silver, and red. I added the tinsel label, a gumdrop (similar to these) to the top of the cork, and tied a bow with some red and green baker's twine.
For the middle panel I fussy cut the little letter carrier from one of the cards on the Greeting Cards paper. Since I had two sheets of this I was able to glue down the card and then cut out the frame and the little letter carrier, which I popped up using foam tape. I added a red burlap flower to the corner and for the focal point I filled a small cork dome with mini jingle bells and added the jingle label to the outside.
For the bottom panel I chose another of the Greeting Cards panels and also fussy cut a wreath and added some red berry pearls from Queen & Co. I mounted the wreath using a double stack of black foam dots so that it pops up far away from the background. I added some miniature trees in green, red, and ecru to one corner. For the focal point I used a large corked dome for the "holly jolly" sign post. I mounted the words to a silver memo pin that I stuck into the cork base. To create the snow at the base of the sign I added liquid applique and shaved ice flakes.
Here are a few more closeups of some of the fun elements in this piece.
There were so many wonderful panels on the Greeting Cards sheet that I made a card as well. You easily make several cards from this sheet alone.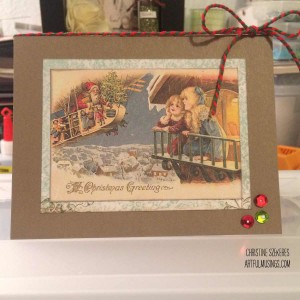 I hope you have enjoyed today's Christmas preview. There is more fun throughout the week over on the Nani Ke Ola blog.
Until then, remember, creativity and imperfection live together in all we do. "Grace is the face love wears when it meets imperfection."
~xoxo
Beanie
Supplies Used
Blue Fern Studio Vintage Christmas
Graphic 45 Shadow Box
Chipboard Elements
Powder Puff Chalk Ink Biscotti
Fresh Ink Red Currant & Queen & Co Pearls Berry Red
Cork Domes, Memo Clips, Chitchat Stickers Holiday, Gumdrops, Rock Candy Glitter, Metal Corners
Sticky Embossing Powder Liquid Applique, Shaved Ice Flakes, Glass Bottles, Baker's Twine
P.S. Do you always know what you're doing when you start a new piece? Does it seem to pour out of you as you work? Do you procrastinate? Do you get it done way ahead? If you feel so inclined I would love to read your comments about your process so drop me a note below.