So, life's been going on, but I've been slacking on my blogging duties. It's not 2nd nature to me, getting on the Internet and writing about me and the goings-on in my life. This is partly because I'm a private person and partly because I haven't made blogging a habit. I'm going to try to correct the latter, there is no hope of changing the former.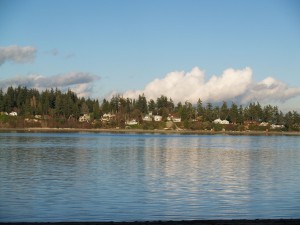 I kitty-sat for my good friends (sisters) Gigi and Claire over New Year's. They rent a very lovely home on Bainbridge Island (a 35-minute ferry ride West of Seattle). It was fun being over there, as I said the home is lovely and it's nice and quite. I cared for their two princes, Enzo and Sandy. Both cute Persians who are spoiled rotten by their mama Gigi. Sandy eats his food (actual baby food in the evening) from a spoon! Yes, I fed a kitty from a tablespoon.
Enzo is a lovebug who loves to snuggle up next to your head at night. Several nights I would wake up with his cheek pressed up next to mine. What woke me? Enzo snores, which I can't complain about since I snore too!
Here are a few pictures from this visit…