I am always looking for new artistic outlets and I have a friend who is a talented fiberist (Is that a word?). She has taught me to wet felt soap and some basic 1D needle felting, but a week ago Sunday she began teaching me 3D needle felting.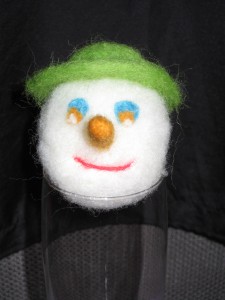 I created a snowlady, named Gracie, that I think will become an ornament for my small Christmas tree.
I LOVE needle felting and understand how people become addicted. My friend is a true enthusaist for all things wool and attends flock and fiber events in the Pacific Northwest.
I must say, there is something soothing about working with wool. I like the "raw", natural aspect. Working with it is relaxing and feels eco-friendly. I'm happy to have an artistic outlet that doesn't require large amounts of clean-up and can be done with a small amount of space.